Did you know that you can create a rental agreement online and get it delivered on a stamp paper to your doorstep anywhere in India? This guide will help you find the best legal services and legal advice online in India.
Online legal profession is steadily gaining traction in India. Very few people in India know that they can get legal advice for free online or find good lawyers online.
Finding trusted lawyers in India is always a challenge, especially, when the case is critical and involves your livelihood or family life, or business. 
Most of us always like to find lawyers by reference or by contact in our locality.
I have always found out from my and my friend's experience that a wrong choice of lawyer will cost you a lot of money and time with no positive result. 
So how we can avoid this. Yes, the solution is taking the help of online legal services companies.
How to find the best Lawyers in India online
After extensive search and analysis, the following are the Top 9 choices to get legal services online in India.
These choices will help you find best lawyers and other legal related services online.
1. Vakilsearch
Vakilsearch is an online platform that offers legal services like legal documentation, incorporation, government registrations & filings, accounting, documentation.
They claim to be a one-stop solution, if you are a big business owner or a startup, to get below premium services of a
Lawyer – for

documents, contracts, and advice

Chartered Accountant –  for safekeeping and maintaining of your books are in safe hands
Company Secretary – for your business compliance checklist, etc.
Vakilsearch can serve you for legal support for property agreements and tax filings in India.
They also help with annual compliance with tax laws for startups, businesses, and companies.
I recommend you to keep Vakilsearch as your preferred choice, as there are more than 4000 lawyers tied with Vakilsearch with offices in all major cities in India.
There is a high chance you can find a verified lawyer at your locality. Also, their clientele is having some big names likes Oyo, big basket, hdfc bank, amazon, etc.
Vakilsearch has an excellent collection of legal videos on their youtube channel.
Visit Vakilsearch.com
2. Lawyer24x
Lawyer24x aims to be the "Uber" for getting online legal help. They provide the best services across legal advice, starting a business, intellectual property rights, Trademark, and more.
Lawyer24x initially offers a free consultation where you can remain anonymous.
After the inquiry is posted, the lawyer would get back to you with a response and take the services forward.
With Lawyer24x, get legal agreements, contracts, and legal notices well drafted by expert lawyers quickly from the comfort of your home.
In other words, for startups and businesses, Lawyer24x can save you from a lot of trouble and legal hassle to get a handful of licenses on time.
visit Lawyer24x.com
3. Legaldesk
LegalDesk is one of India's trusted, DIY platform for making legal documents online.
Their platform can help you to draft agreements and contracts, access ready-to-use templates without legal knowledge. The documents can also get home delivered on a stamp paper.
Legaldesk should be your first choice for creating Rental Agreement online as they have an excellent interface to create one yourself without worrying about legal terms.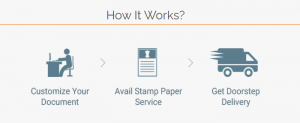 Create your own rental agreement online in few easy steps.
Fill in the details of Landlord and Tenant, add or edit clauses of your choice, add details about monthly rent etc, review and make payment.
That's it. Your document is ready to use.
You can also opt for printing a soft copy or select to print the deed stamp paper and deliver it to you at a nominal fee.
There is also a transparent pricing calculator for different documents with delivery rates to almost everywhere in India.
Cool right !!
Legaldesk also has a product called Signdesk where both businesses and individuals can use Aadhaar based e-sign workflow and digitize their paperwork process.
As per the Indian IT Act, 2000, electronic signatures are authenticated as a valid signature.
Visit Legaldesk.com and create your own legal documents now.
4. Lawyered
Lawyered aims to be a one-stop legal advisory solution provider, for your legal queries, get transparent cost estimates, and also book meetings with a lawyer.
Their platform also allows you to ask free questions, anonymously, and also receive answers or quotations from lawyers in your locality.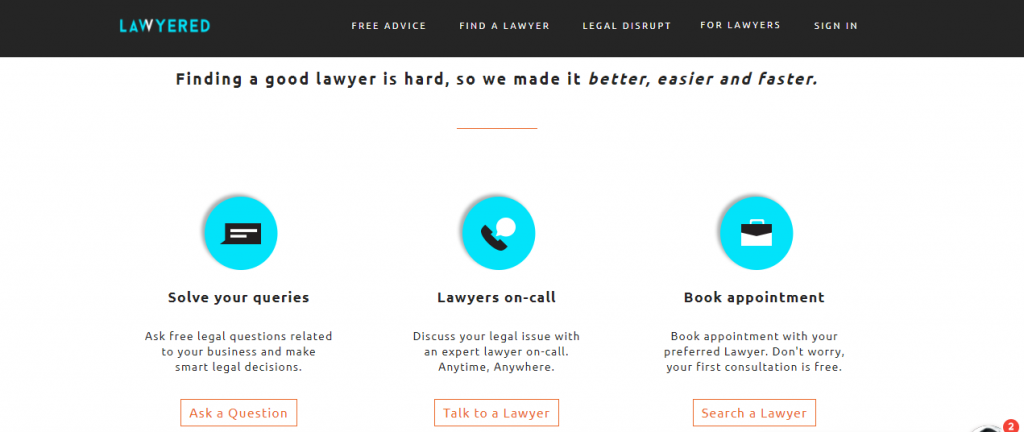 One interesting feature in Lawyered is, you can get a free consultation.
During free consultation, you can discuss case needs and then get a quotation based on the case.
This brings transparency in pricing and can save a lot of time and money for you.
If you are looking for a lawyer, you can start by clicking on find a lawyer near me option in their site.
You can search for lawyers based on expertise, location, and other factors. You can deep dive into lawyer's profile about this experience, clients etc.
This will make it easier for you to make the right choice.
Visit Lawyered.in
5. Nyaaya
Nyaaya is a Wikipedia type free resource that aims to cover all laws in India, both at the central and state levels.
You can explore this great platform to understand and deal with everyday legal problems.
I have added Nyaaya to this list as it is more of a self-help kind of solution.
Nyaaya's searchable repository of both central and state law in the country that provides information on laws in simple English and Hindi.

The idea of Nyaaya is to make legal knowledge more accessible to those outside the legal system.
The information is also presented in a way that you can find answers with little effort.
Above all, Nayaaya provides comprehensive information on various legal topics, covering most aspects of the law that people interact within their daily lives.
Visit Nayaaya
6. Lawrato
LawRato is an interactive online platform, where you can find and hire Top-rated Lawyers in any city or court in India. They are a one-stop platform to ask, answer, discuss your legal questions.
How Lawrato work is much like other platforms, search for Lawyer by specialization, City or Court Name.
However what Lawrato does a little different here is, they share your contact and inquiry details with the selected lawyer and the lawyer's contact details with you.
Now all you have to do is call or meet the lawyer and discuss your legal issue directly with the selected lawyer.
You can also view the below video to know more.
For more visit Lawrato.com
7. Legistify
Legistify is another legal technology company where you can connect with top legal experts all over India in an easy, fast, and simple way on their online platform.
As per their site, Legistify, not only facilitates legal services at fixed price quotes, it makes litigation and documentation a matter of just a few clicks.
Legistify offers a range of services at fixed-prices.  You can choose from different service packages according to your needs at affordable rates.
Their site give upfront cost for day to day legal services like divorce, employment agreement, marriage registration, etc.

One thing that Legistify does is better is that they assign expert relationship managers for you who promises to ensure a completely transparent chain of communication.
Legistify aims to provide a technology-driven solution for the complexity, lack of legal awareness, and affordability associated with the legal domain in India.
Like other online services, Legistify has the option to get free expert advice by submitting your question. 
Legistify's legal experts will then answer your queries and provide free advice. You can also get notified when legal experts post answers to your questions.
In addition, there is also an insta-consult option where you can pay online and talk to an expert Lawyer instantly for 30 minutes.
This is a great standout feature from Legistify, if you just want to know a quick legal opinion or advice at a affordable cost.
Legistify site also has extensive legal resources like legal blogs, news, and articles on IPC sections which you can read to improve your legal knowledge.
Visit Legistify.com
8. LegalRaasta
LegalRaasta is a technology-driven platform that provides one-click access to individuals & businesses for all their legal & professional needs.
LegalRaasta is a great platform that can help you in filing tax returns, drafting legal documents, getting FSSAI and IEC licenses registered, trademark registration, and Loans.
In addition, there also services that include solving legal compliance related to starting and running a business for startups and small business owners.

This includes company registration, company conversion like private to public, special entities registration like NBFC, MSME, SSI registration.
LegalRaasta has a network of professionals including experienced Lawyers, Chartered Accountants.
Tapping this experience will be a huge advantage for your business legal and registration support.
Visit LegalRaasta.com
9. Myadvo
Myadvo's mission, as per their site, is to make legal transparent, trustworthy, and conveniently accessible for everyone.
Fixed pricing, Lawyer discovery and Dedicated case manager are great features of Myadvo legal services.
Fixed Pricing: Prices are fixed across various services and consultations i.e. efficient, reliable legal services at predetermined prices.
This transparency will hugely benefit individuals, NRIs, startups, and businesses to have confidence in the transaction.
Lawyer Discovery: 24×7 Expert assistance for any legal problem – You can receive legal advice from expert lawyers or search legal queries from their repositories.
You also can search through lawyer profiles and directly book consultations with the lawyer suiting their requirement.
They have more than 10,000+ subject matter expert lawyers in 350+ cities of India.
Case Manager: Like Legistify, Myadvo also provides end-to-end support, timely updates, case analysis & analytics by assigning you a dedicated case manager.
The case manager will follow up with the lawyer, helps file documents, and keeps you as a client updated on the case progress.
All the above makes Myadvo a compelling choice for your legal support.
Visit Myadvo.in
Conclusion
Hope this list helped you in finding best legal services and best lawyers in India.
Each are great choices in their own way and I am sure they will definitely solve your legal problems.
Online Legal service is the future in this field. Competition between these companies will ensure that you get better service than you get from an individual lawyer.
I will keep updating this list with new choices as and when they come in my radar, so that you do not miss out on good legal services.
Please provide your comments that may help other readers.